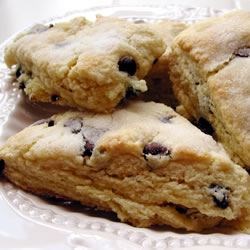 Jeana's
recipe for
Martha Stewart's Apple Bundt Cake
has inspired me into thinking about afternoon treats, which make coffee that much better. :) I'm seriously considering buying a bundt pan, but in the meantime, my favorite coffee compliment...cranberry scones.
I got the recipe off of allrecipes.com and have altered it to make me feel a little better about eating them so frequently...the picture is also from that site. Just trying to give credit where credit is due.
So on to the recipe...
The Best Ever Cranberry Scones with Orange Glaze
1 cup sour cream
1 teaspoon baking soda
2 cups all-purpose flour
2 cups whole wheat flour
1 cup granulated sugar
2 teaspoons baking powder
1/4 teaspoon cream of tartar
1 teaspoon salt
1/2 cup butter
1/2 cup oil (I use olive oil)
1 egg
1 cup dried cranberries
2 cups powdered sugar
2-3 Tablespoons orange juice
In a small bowl blend the sour cream and baking soda and set aside.
Preheat the oven to 350. (I use a pizza stone, and put it in the oven to preheat now)
In a large bowl mix flour, sugar, bp, cream of tartar, and salt. Add oil and cut in butter. Add the egg and sour cream mixture and stir just until moistened. Mix in cranberries.
Turn out on lightly floured surface and knead a few times (just to get it to hold together). Form into 3 rounds about 3/4 of an inch thick. Slice the rounds into 6-8 wedges each. Place wedges 2 inches apart on the preheated stone and cook for 12-15 minutes. (I normally have to do two rounds in the oven). They should be slightly brown when done.
Mix powdered sugar and enough orange juice just till it runs off the fork. Drizzle with glaze (not pictured above). These are best warm. I have also made them with raisins and a plain vanilla glaze. They are great without the glaze too, but pretty much to die for with the glaze.
I'm hoping that Jeana and I are going to inspire you to post recipes...lemon poppy-seed bundt cake pleeeease!
Dave has been gone a good 24 hours...so the insanity has set in. This is not the insanity that some of my more normal friends seem to experience when their husbands leave...we have our own brand here. I just realized that it is 6pm and that we should probably think about dinner, but the fact is, none of the girls will eat because we had lunch less than 3 hours ago. Yes, this is how days go when we don't have Dad here. I throw all scheduling to the wind just because...I can. We have been painting basically all day, and doing various other craft projects that make a huge mess, that won't get cleaned up until Friday. I'm okay with this for a week or so, then I will realize that I have to be the grown up, because no one is going to tell me to go to bed before midnight, and that our house doesn't have enough space to hold an additional art studio. I have moved up in the world a little...all the dishes are done and the bedrooms are clean...today anyway. But if you are in the area, please call before you stop by...especially before noon...I can pretty much guarantee that I will still be in pjs.

On a more serious note...we have had so many people ask if they can help with something because Dave is gone, and I am so appreciative of all the offers for help. The girls and I were thinking about that last night, and we concluded that the things that Dad provides can't be replicated by anyone else, except for maybe providing for the family, and that he is doing from afar. But we will miss wrestling and cuddling with Dad...the girls will miss watching Disney movies with Dad, because mom really doesn't do animated features. Hannah will miss her punching bag...the problem with volunteering for that position is that Hannah doesn't really punch anyone but Dad, plus, she is pretty strong now, and it actually hurts. Pretty much everything else I have the time and the energy compensate for. Obviously not the discipline, but the ability at least.
Dave will officially be working in Indiana on Monday. Can you say whirlwind? Evansville, Indiana is going to be our new home, and Dave flies out tomorrow afternoon.
We went house hunting the week after we heard, and have a contract on a house that the whole family easily agreed upon, complete with climbing tree for Sarah and fireplace for Hannah. I will post pics when it is actually finalized which will hopefully be mid-December. So the next 2 months will be long, but will at least have some semblance of order and routine. We can finish up stuff here before Christmas and start the new year fresh in our new locale.
God has been very good. All the wheels have been turning smoothing to get all of the logistics worked out. There are too many praises in this area to mention all of them, but the biggest one is that I don't have to pack. It is all going to be done for me. So know I just have to figure out what to do with myself the next 2 months.
Lots of crying here today, as everyone is going to miss Dad. A trip to Chuck E Cheese here in a few hours will be the culmination of his time here, which should be loads of fun.
I feel like I should feel more and say more, but right now I'm still processing.


Blog Archive